To Monitoring and Evaluation professionals who want an effective data collection system but don't know where to start
In the past, we discussed how ActivityInfo can be used for Monitoring and Evaluation and we took a look at how various features in the system can make the work of the M&E officer easier. In this article, we dive into a more advanced and detailed approach to help you transform your M&E plan into an effective data collection system.
If you are interested in a more thorough walkthrough on building a complete data collection system for Monitoring and Evaluation activities, please consider taking the online, free self-paced course "Mastering the basics of information management with ActivityInfo".
So let's start by looking at some important components for an effective M&E data collection system.
Prefer a video instead? Watch the Webinar recording!
View the French version of this article
If you like this article don't forget to register to the ActivityInfo newsletter to receive new guides, articles and webinars on various M&E topics!
Before starting out it is essential to get a good understanding of all the information management processes related to your M&E programme. Create a list of all the actors involved in reporting data or interested in the outcomes and progress of the activities. Then, map out how information currently flows from each department, field office or colleague to another and eventually to you. If you plan to unify all this data to reach valuable insights and showcase the impact of your programme, it is important to find out where each type of information resides and who is responsible for providing it.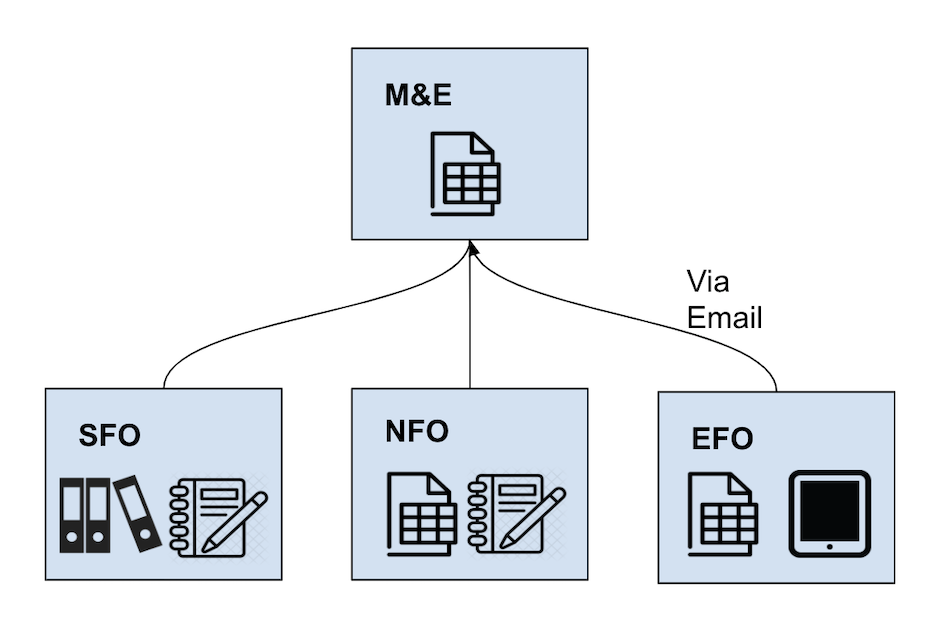 You might realize that information comes in from various sources and that each department or field office is using a different system to collect and store the information that is related to their own objectives and goals. Therein lies a chance of streamlining the overall data collection process.
Your objective is to make sure that all data comes to you in a structured format and at the designated time as this will allow you to synthesize it and quickly reach conclusions. At the same time, you can offer to all involved parties the possibility to leverage the same system to showcase their contribution in relation to the programme and their own objectives too.
To achieve that, you can ask all your partners to add their information in a single system which will be designed so as to serve the information management requirements of all sides. This can reduce the time spent on moving data from one system to another and the consequent friction in the data collection process.
The next step is to take a closer look at the M&E plan and the outputs, outcomes and overall impact of the programme. The Logical Framework or the Results Framework will be your guide here. The key in this process is to understand exactly what data will help you reach the numbers for your framework. To achieve this you need to detect any high-level indicators which need to be further analyzed, identify percentages and eventually determine the exact numbers you need to track. For more information about the levels of analysis take a look at an article which analyzes how you should approach indicators when designing your data collection plan.
Once you have a comprehensive list of indicators, you can now reorganize your Logical Framework or the Results Framework based on it. The hierarchy of information needed in Logical/Results Frameworks is top down; for data collection we need to approach the process bottom-up.
Start by listing the indicators and then add the Activity that is related to each one of them.
| Indicator | Activity | Breakdowns | Data Entry | Form |
| --- | --- | --- | --- | --- |
| Number of families who benefited from NFIs | NFI Distribution | FO, Weekly, Site, Gender | Field Office | NFI Distribution |
| Number of families living in the collective centers built | Collective Center Repair | FO, Weekly, Site, Gender | Field Office | Collective Centers |
| Number of distributions | NFI Distribution | FO, Weekly, Province | Field Office | NFI Distribution |
| Number of existing collective centers repaired | Collective Center Repair | FO, Weekly, Province | Field Office | Collective Centers |
| Number of new collective centers built | Collective Center Construction | FO, Weekly, Province | Field Office | Collective Centers |
| Number of distributions to IDP camps | NFI Distribution | FO, Weekly, Province | Field Office | NFI Distribution |
The next step is to decide on the breakdowns that will be used to collect data related to these indicators. To decide this keep in mind not only the objectives of your M&E programme but also the interests of all involved parties. The mapping exercise of step one can help you identify who each stakeholder is and what type of data they require to see.
Example of breakdowns:
There might be specific donor requirements for the reported numbers on top of the programme requirements.
There might be a need for additional disaggregation because a field office needs this information for their own monitoring goals.
Think of the reporting frequency (monthly, fortnightly, weekly, daily) and whether location data is needed too.
If you collect location data decide how precise this data needs to be; do you need for example the location at site level or at province level?
Think of demographic categories which might create further disaggregation requirements.
Then, note down who is going to provide these numbers. Is it going to be another department, a field office or will you need to import records sent to you by other colleagues, for example? Think of confidentiality issues too; do the departments or colleagues need to keep some data hidden from each other?
Following this preparation you can start strategizing for the actual data collection system and forms.
Another choice you need to make is whether you will use one form to collect all data related to your indicators or many. This depends on the structure of the reporting teams and on how incongruous the indicators you need to collect are.
So if for example, the same team will be reporting on similar indicators, then one form could be enough and can ensure that you avoid data overlaps. On the other hand, if there are multiple teams collecting very different data then it would make sense to use more forms.
A best practice and advice we give is to use the minimum amount of data collection forms possible.
If you followed all the steps, you are now ready to give life to your system. If you are using ActivityInfo for your data collection system, then the following features can ensure a flawless process:
If you are working with many partners, such as field offices, and you need to manage their access to the data reported for your M&E activities, the multi-partner database template offers user roles and permissions specifically designed for this case. You can create teams under one partner organization and ensure that each team reports, views or manages the data or even the forms of their own organization. At the same time, at a higher level you can access all this information to generate the required reports.
The benefit of having all teams or departments reporting in a single web-based database is that all information can be found in one place, it is always updated with the latest reported information and each actor can access and work with the data that is more interesting to them, be it at high or low level.
You can create forms to list various options that can be used as answers and reference them in your data collection forms. This allows partners to select an option from these lists when reporting. This way, they save time and you avoid misspelled answers, as their answers can only be chosen from the preselected list that will be presented to them.
If you need to collect specific geographic points to display data on maps in detail, reporting partners can use the GPS of their device to capture their location or add manually the coordinates of a location.
Additionally, we offer a geodatabase that your forms can refer to so that partners can select the location for which they are reporting from there. The geodatabase includes all administrative levels so if for example a partner reports for a village, you can aggregate upwards to see the overall results in a province.
If during the breakdown phase you identified the need for repetitive reporting, subforms is another feature that can be handy. With subforms, reporting partners save time because they just need to add the information related to each period instead of repeating details related to the activity that remain the same.
With relevance rules, questions appear to reporting partners only when they are relevant to them based on their previous answers. This saves time and simplifies data collection for everyone. In addition, validation rules make sure that an answer will be accepted only if it follows specific rules you have set.
For this system to work for all actors it needs to address the challenges they face. The data collection process might be a challenging task for some partners especially if they are working in resource constrained environments.
Offering a user-friendly data entry tool, a mobile data collection app, offline data collection capabilities and inclusive training sessions can benefit everyone cooperating in the system. ActivityInfo has been designed with this in mind. Take a look at some ideas for training materials you can design and share with partners to help them get started with data collection.
Finally, to make sure that everything goes according to plan you need to have several tools in your hands to monitor the data collection process. For example, you might need to lock reporting for specific reporting periods to ensure that no new data is added or changed. Also, you should be able to have a complete overview of the data collection actions in the databases so that you can easily detect unsolicited changes.
Finally, when data collection starts you can congratulate yourself for putting together such a demanding system. But your work can be enhanced and supported further.
Make sure to share the results of the programme's activities both internally with all the reporting partners but also externally with the public. Use built-in tools to share and publish reports or integrate with visualization software to create advanced dashboards for your partners, the donors and the world to see.
Don't forget to combine the results with your evaluation conclusions, insights and recommendations. This will not only motivate your partners to continue working on a common system but it will also support your transparency and advocacy efforts.
Good luck!
Questions? Don't hesitate to contact us.