We're here to help you get set up for success
Our onboarding packages are designed for new customers looking to accelerate their deployment of ActivityInfo.
Our team of implementation specialists combine in-depth product knowledge and domain expertise to help you design, build, and launch a database that is fit for your specific needs.
How it works
Guided configuration
You will take the lead in building your database and our team of implementation experts will walk you through the design process in a series of guided configuration sessions where we provide instruction, resources, and advice to help you create a system that works for your needs.
Design
How to design an optimal data model that effectively connects all of your data
Build
How to best leverage ActivityInfo features to create a functional system
Launch
How to successfully launch your system to drive sustainable adoption
From kick-off to adoption
Four collaborative phases to ensure long-term success
What to expect
We will work together on a comprehensive Information System design process:
Data modelling
Form configuration
Role configuration
Testing
Data migration
Report configuration
Integration
Pre-launch review
How we'll work together
Keeping track
You will get access to an exclusive onboarding platform where we will be tracking our progress.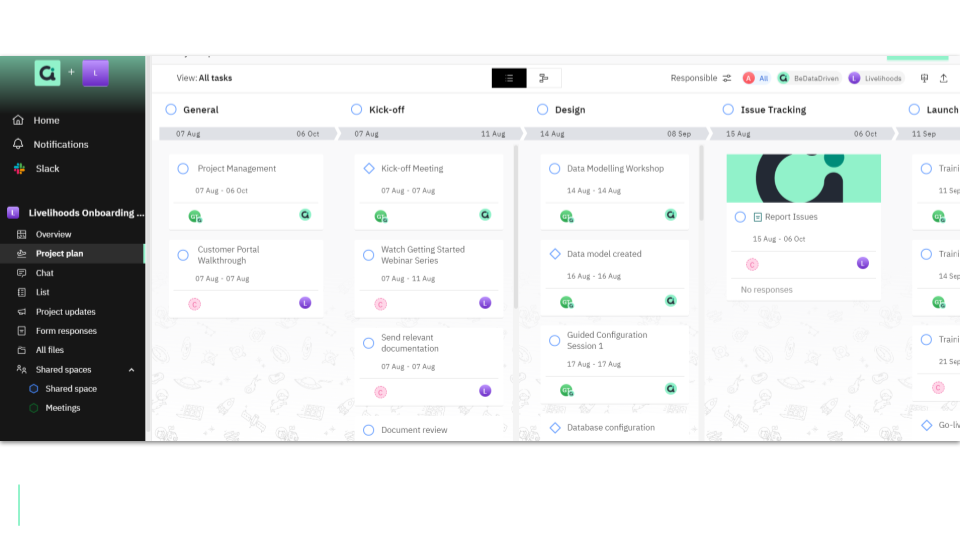 Questions?
If you want to learn more about how the onboarding process works and how we can help you get set up with ActivityInfo, contact us for a free, no-obligation consultation.