Best Practices for Developing Internal Training Materials for reporting data in ActivityInfo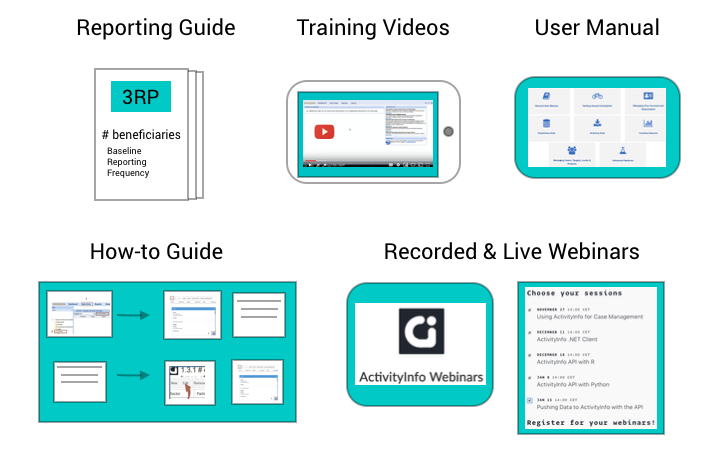 ActivityInfo is designed to be easy to learn and easy to use. However, when rolling out the system to a large group of users, their questions are likely to go beyond the mechanics of the software itself. To make sure everyone is on the same page, it can be very useful to put together training materials that cover the whole process - from specific instructions on how to collect data to instructions on how to analyze the results for your own organization.
Compiling internal training materials for your staff or external partners - whether that is a two-paged instruction manual or a short YouTube video - can give stakeholders the confidence to fully participate in a new system. This is especially true if you are facing a high rate of turnover in field offices!
In the blog post below, we have collected a number of great examples on training materials from ActivityInfo users, together with a few tips and tricks from our own team.
Your team and partners will likely have questions about the data to report in ActivityInfo. Does an indicator about beneficiaries include just refugees or other vulnerable populations as well? What standard should be used for measuring malnutrition? How should the team deal with missing data? These are all points that could be included in a reporting or data collection guide.
You can take a look at the Reporting Guide for the Syrian Response in Jordan that has been created for the Protection Sector to ensure that all partners are familiar with what needs to be reported. Also, another Reporting Guide made for the Livelihoods Sector uses a Glossary along with the Reporting Guidelines to ensure a common understanding among partners.
You can create copies of the same documents in as many languages as necessary to ensure that all partners will be able to follow the guidelines.
Also, if you want to introduce ActivityInfo to your partners you can share with them information from our website, create a quick introduction document like the one IMWG in Lebanon created or contact us for a more customized presentation.
Many of the ActivityInfo users save time by creating pre-recorded videos which they share with people within their organization or with the partner organizations who need to be trained on a specific functionality. You can create your own training video based on the specific activities you want the users to perform on ActivityInfo or you might even use the videos from other organizations which have been made available to the public as a sample.
Take a look at a video made by our users in Iraq for the 2018 Education Cluster and at another one prepared for the Protection Cluster to get some ideas.
Why write from scratch an article on submitting a new Form Record to a Form when it is already available? In our User Manual, you can find a lot of articles on all the ways ActivityInfo can be used. Be it "Designing a Form" or "Doing Data Entry", the information is available there. Use the Search bar to look for a specific function or term or browse through the various chapters.
Missing a specific function? Contact us and we will add it.
If you feel that the articles in the User Manual need to be customized to your program to be more effective, you can create a more customized document with guidelines on how to specifically use ActivityInfo for the purpose of your program.
Take a look at this example from the 3RP Livelihood Sector in Turkey which was created as a step-by-step guide for the reporting partners of the Sector or download as a sample an older document with Reporting Guidelines for ActivityInfo made for the Jordan Refugee Response in 2016. Also, you can take a look at an older Tutorial for the WASH Cluster in Mali in one of our older blog posts.
Also, why not go through our recorded Webinars? There you might find specific instructions about creating a Form, using the Reporting Interface or the ActivityInfo API and many more. You can also get some inspiration for the material you could include in your training material. Or you can just share them with the people you would like to be trained.
Would you like a Webinar on a specific function? Contact us and we will do our best to run it.
We are running online webinars on a variety of ActivityInfo uses which can be of great help for you, the people in your organization or for your partners. Take a look at our Webinars page and register to the ones that are of interest to you. Make sure you invite other partners or people from your organization who might be interested too.
Also keep an eye on our on-site Trainings and make sure you book your seat on time!