Case management: ActivityInfo as a protection information management system
ActivityInfo is an information management platform which can be used in a variety of settings ranging from monitoring and evaluation to case management thanks to its powerful Database builder and Form designer as well as other features which help simplify the process of information management and data collection. Whether you are working with development programmes or an emergency response we have developed Database templates, user Roles, permissions and Form fields to cover your needs.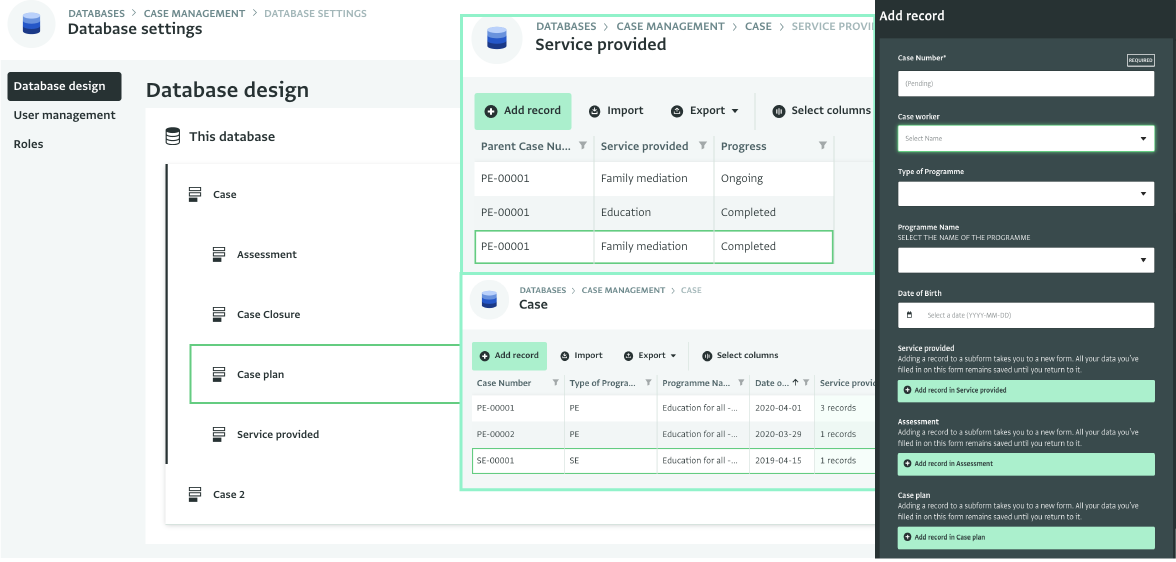 In our previous blog posts and Case Studies we have explored how Databases can be designed for the monitoring and evaluation of development programmes, for information management in regional responses, for rapid-response mechanisms and many more. In this blog post, we will explore the use of ActivityInfo as an information management system for case management and referral.
Features to get started with case management
The case management Database template
When you add a new Database in ActivityInfo you can select from a list of templates to get started quickly with some predefined user Roles. We designed a Case management Database template which comes with three ready-to-use Roles; Administrator, Supervisor and Case worker. By using this Database template you can create teams of Case workers under individual Supervisors. View the full tutorial on setting up a Database for case management in our User Manual.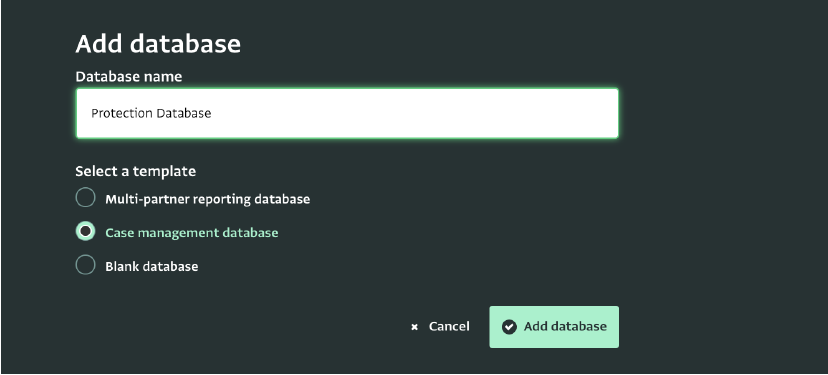 Roles and permissions
The Roles and permissions of this Database template have been designed so that you can quickly assign specific permissions to the users you invite only for the cases you select. You can select from the Roles of Administrator, Case worker and Supervisor or you can create your own Roles. By assigning Roles to the users you invite to your case management Database you fully control what resources they can access and in what way.
Read more about the available Roles in case management Database template in our User Manual.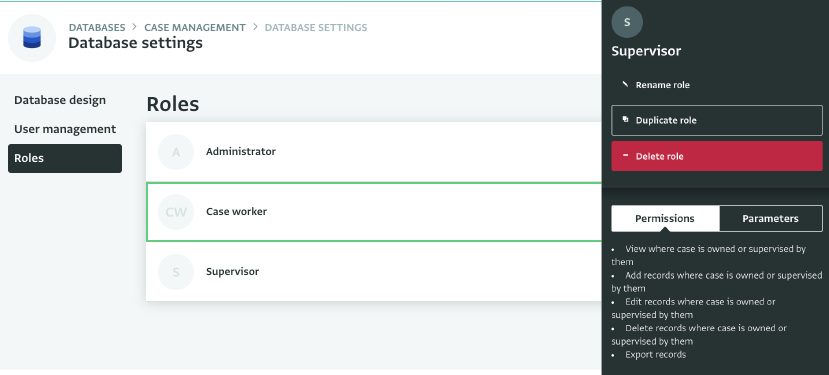 Anonymize data, link Forms, assign cases, work offline
Among the variety of fields you can use in the Forms you design, the Serial Number and the Reference field are two of the most important. A Serial Number allows you to anonymize the data collected as it automatically generates a code for each case. Then, a Reference field in a new Form allows you to link to the case using just the Serial Number. By adding a prefix to the Serial Number you can customize it based on specific information that the case worker provides for the case and thus make the case easier to track without revealing any other information about the case or the individual that the case is related to. Read more about Serial Numbers in our User Manual.
Also, with the User field you can assign a specific case to a specific case worker or supervisor that has been added to the Database and can access the Form. Finally, when case workers work in the field, offline data collection can be done using a mobile device. Just create some empty cases beforehand to make sure that Serial Numbers will be assigned properly by the system before going offline.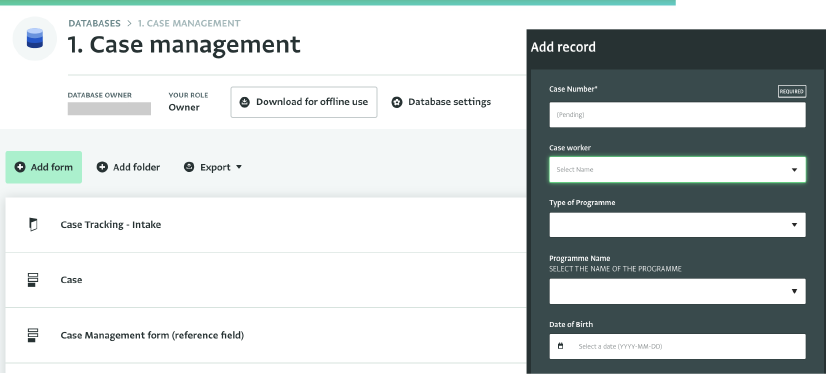 Examples from the field
Several organizations such as UNRWA, UNFPA and the Danish Refugee Council in Bangladesh have used ActivityInfo as an information management system for case management.
For the past five years ActivityInfo has been used by UNRWA as a protection information management system for case management and referral of protection cases. In our 2017 User Conference in Geneva, Sasha Abdi from UNRWA presented the Protection Database that was developed at that time by the organization and explained how the platform was used as well as why it was selected among other options. View the video with the presentation.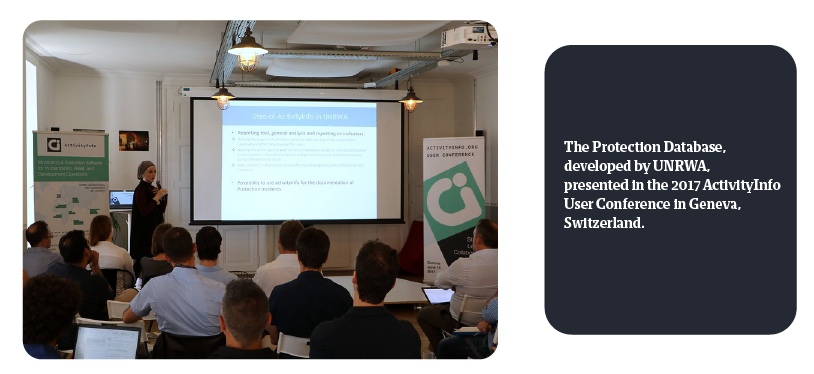 The Danish Refugee Council in Bangladesh is a more recent example of an organization which adopted ActivityInfo for case management when they decided to digitize their paper-based case management system. The country office was considering the advantages and disadvantages of building their own in-house system or using other open source platforms, and decided to use ActivityInfo for their case management activities because there was an urgent need to put a system in place, quickly and easily. When designing the Database, the Information Management Manager of the team created separate Folders for each Form in order to be able to control the level of access the case workers will have to each individual type of Form. Also, they created different teams in order to manage the permissions of each case worker at an individual and at a group level. Read the whole story of how the Danish Refugee Council in Bangladesh decided to use ActivityInfo as their case management platform in our latest Case Study.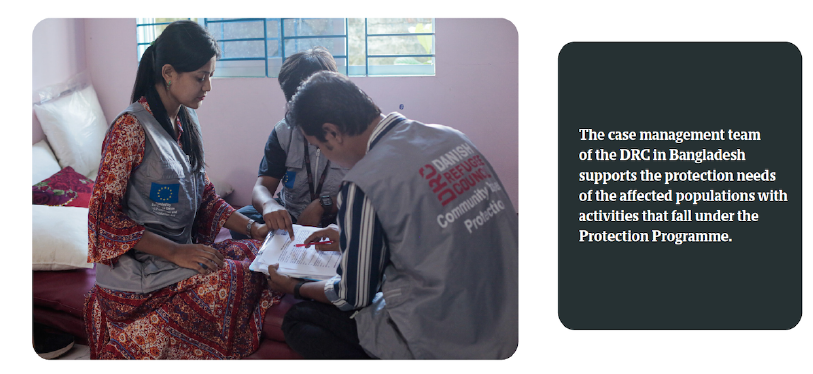 ActivityInfo versus open-source, on premise or internal case management systems
If you are considering adopting an information management system for case management, there are several types of options available. We summarized the contexts in which ActivityInfo can be a more effective solution.
ActivityInfo is offered as a Software as a Service (SaaS) and is web-based. This means that you and your team don't have to download and maintain software. You don't need an external consultant to help you set up the Databases either. Everyone can log into their account and start working immediately. All data is synced so you can view the data collected in real-time. If you are looking for a solution that will allow you to get started quickly and on your own, you can try the platform to see if it meets your needs.
Data collection in ActivityInfo is straightforward and, according to our users, a quick training on data entry allows everyone to get started within a day. More attention is usually paid to the type of content that needs to be collected. Practising with some real-case scenarios can help the case workers quickly grasp the steps. Therefore, if you want to set up a system to which your team can be easily trained to be ready to start collecting data, ActivityInfo can help you with that.
Another important point that we hear from our users is that when you need to make a change to the Form or the Database you have designed, you can do so on your own, with 'just a few clicks'. There are cases of software where it is more time-consuming to apply changes to a core structure or even call for the help of the developer or an external consultant. Additionally, you can completely control who can access the data, any time as you are not dependent on external help to change the permissions of users. Therefore, if you want to have complete control over the data, the users and the system at any given time, and you can try using ActivityInfo.
With regards to data security, in ActivityInfo data is securely stored in servers in multiple locations across Europe, using infrastructure provided by the Google Cloud Platform (GCP). By keeping multiple copies of the data in multiple locations we make sure we have enough backups in case of a natural disaster or failure of one region's server. This means that you don't need to keep backups of data and worry about issues such as the Recovery Point Objective (RPO) (i.e. the maximum acceptable amount of time during which the data might be lost) and how quickly your system can recover. Thus, if you are looking for a solution that will handle such issues for you, ActivityInfo can cover you.
With an ActivityInfo account you also get access to our support team, as a Technical Contact. So whenever you need some further assistance or have a question about how something works or should be done, our team is there for you. You don't need to search for an answer in forums and discussion groups and you don't need to wait for an expert or a consultant to view and answer your question. More interestingly, if your organization needs a specific feature to be added to the software, our team can discuss its development.
As the ActivityInfo team is responsible for the software, the releases and all the updates, you don't need to spend resources such as time and funds on finding the right technical team to build, document and maintain your solution. You don't have to worry about finding a technical team who understands your data collection needs and the way your programme works as we have cooperated for years with people working in the field making sure we develop a solution that responds to what they need.
Regarding the deployment cost, while in many cases this might include the salaries of several IT consultants or could take plenty of time, with ActivityInfo there is none, as you can create an account, log in and be ready to go. Moreover, the cost of maintaining software, applying security patches or configuring software to include workflows and processes that go beyond the basics often includes plenty of direct and indirect costs (e.g. IT salaries ranging from €50,000 to €150,000 per year depending on location, hosting, SSL certificates, etc.)
All in all, if you want to:
get started quickly and easily with an information management system, on your own,
save time on data entry training
have complete control over the design and structure of your Forms and Databases,
have complete control over the users accessing the system at any given time,
feel undaunted by data loss risks
save funds and time from software development and maintenance
feel secure knowing that our team is there to support you all the time,
ActivityInfo can be the solution for you and you can get immediately started with a Free Trial.