Who's doing what where (3W) database template
The main purpose of a simple Who's Doing What Where (3W) is to identify the actors that are responding to a humanitarian situation, the sectors they are working in, and where. This basic information can support coordination of response by helping to identify potential partners, assess the progress of an ongoing response, and identify overlaps or gaps in the response.
This template includes a simple form for organizations to report the projects, along with references to organization, sector, location, and donor reference forms.
After you copy this template, you can customize the database, forms and fields as well as add records to meet your needs. Click on the button below to add the database to your ActivityInfo account. If you don't have an account with ActivityInfo, you will be prompted to start a Free trial.
Create your own database based on this template
If you need support for a different setup you can always contact us and we can help you with a more tailored approach.
In the "Reference data" folder you will find all the reference forms such as Organizations, Donors, Sectors, and Administrative Levels 1 and Level 2. You can add or modify the existing records here individually, or delete all records (Shift+Click) and then import your own lists.
Note that this template is configured so that only users with the Administrator role can edit reference data.
You can customize the "Projects" form by navigating to the form and then clicking "Form settings". You can add or subtract fields of many types. This template, for example, includes a question on how the project is related to COVID-19. To change a field click on it to open the field card editor, make the changes and save the form.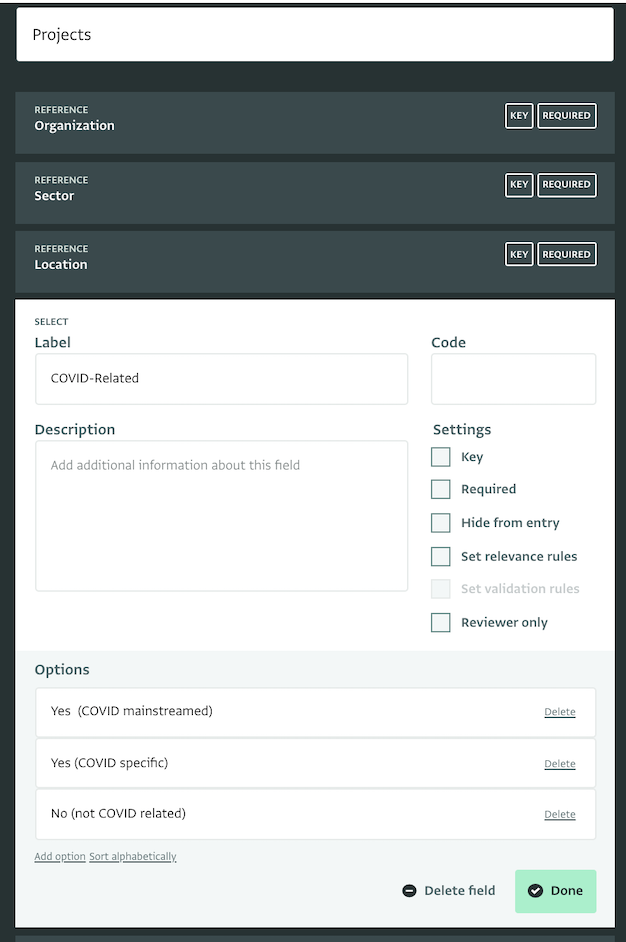 Click on "Database settings" and then navigate to "User management." From here, you can invite others to access the database with different rules. This template includes three different roles:
Administrator: can change all forms and data
Reporting partner: can only see and edit their own projects. They will not be able to change reference data like geography or the list of sectors. (unless you give them extra permissions)
View only: can see all projects, but cannot make any changes.
You can easily edit the roles to meet the needs of your team. Click on a role and then click on 'Edit permissions' to open the list of available permissions. Select the ones you want to keep and click on 'Save'.
As people start reporting, you will see new records appearing in the Table View. You can filter and sort these records based on your preferences to work faster.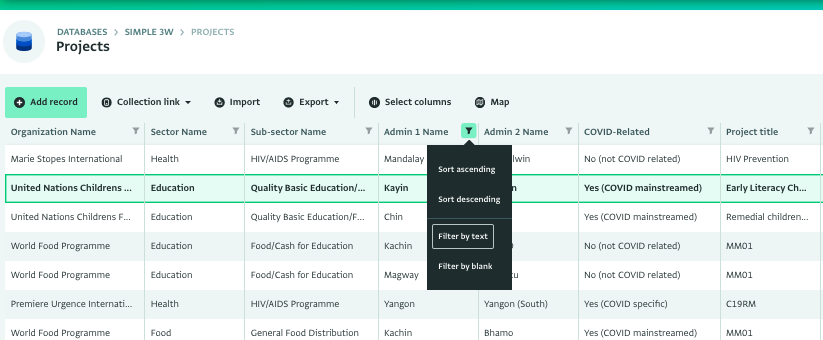 You can connect your 3W database directly to Power BI or Tableau, or you can use ActivityInfo's built in analysis and visualization tools to create and tables and maps, and publish them.
This template includes a small sample of data from the Myanmar consolidated 3W published on HDX.