ActivityInfo for Protection, Child Protection and GBV activities case management
ActivityInfo can be used not only to support response monitoring and partners presence in the Protection, Child Protection and GBV cluster/sector, but also for case management for these types of cases. Being web-based, it makes the coordination between supervisors and case workers easier and allows organizations to move away from exchanging emails or maintaining paper-based case management systems.
Thanks to very advanced, refined permissions you can assign cases to case workers, case workers to supervisors or country codes and many more. This makes sure you can always restrict access to confidential data to the officers allowed to view them.
There is no need to maintain servers or to ask your colleagues to run configurations in their systems to start working on cases. Case workers can simply login and update cases via desktop or mobile device while being online or offline.
As far as data security is concerned, with Single Sign On you always make sure that users use their organization's credentials to log in to the system. Data is securely hosted in Google's world-class secure data centers, located in Europe.
Are you more interested in a self-managed version of ActivityInfo? Contact us for more information.
Thanks to the possibility to add forms within forms, which in ActivityInfo are called subforms, you can collect additional information for each case and create structures to reflect the process workflow of your case management activities. So for example, you can add a Parent form to collect the basic information about the case and combine it with a subform for action taken and referrals, a subform for developments and a subform for case closure.
Because we want to help you get started quickly, we have designed a case management database template with which you can practice or which you can tailor to your organization's needs.
Finally, ActivityInfo is offered as Software as a Service (SaaS) and this means that you can always have access to our support team to get started, ask questions and discuss future developments. You don't need to worry about software updates as we take care of that and deliver the latest version of the software to all users.
Since 2019, the Danish Refugee Council in Bangladesh has been using ActivityInfo as their case management system for the Rohingya Crisis. The organization works with a comprehensive case management programme under the Protection Programme to provide assistance to identified vulnerable individuals in Cox's Bazar. With an average of 60 cases per month needing frequent follow-ups and to be handled urgently, DRC decided to reproduce their paper-based case management system to ActivityInfo. Leveraging folders, the advanced permissions and subforms and reference fields with Serial Numbers the team created a database that protects the individual's personal information and allows case workers to cooperate fast on a common platform. Read the complete Case Study to learn more about the setup of the case management system.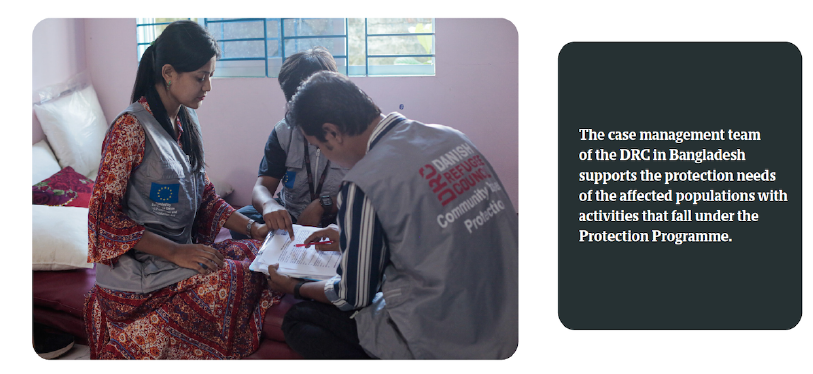 UNRWA has also been using ActivityInfo since 2015 for case management and referral for protection cases leveraging the offline capability to allow for house visits and the flexibility of the database and form design. During the 2017 ActivityInfo User Conference, Mrs. Sasha Abdi from UNRWA presented the Protection Database that was developed at that time by the organization View the video with the presentation to find out more.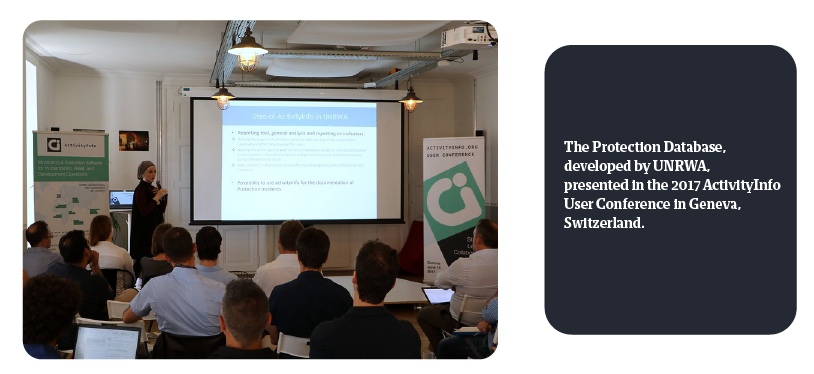 ActivityInfo has a Global Frame Agreement in place with UNHCR. We are happy to extend the terms of the Global Frame Agreement to the UN Secretariat and to UN Technical Agencies. In most cases, other UN Agencies can use the terms of the Frame Agreement to procure ActivityInfo through a streamlined process. Similar to a Long Term Agreement (LTA), it allows offices to directly raise a Purchase Order for a customized Subscription Plan to ActivityInfo. This makes the procurement process simpler and quicker.
Please keep in mind that the organization you are working with may already have an active subscription with ActivityInfo that you can use directly, so make sure to check with the Global Cluster lead. If you are added to that plan, you will be able to use ActivityInfo without purchasing your own subscription plan. Note that the overall cost of a subscription plan is related to the total number of users under that plan.
If you wish to use ActivityInfo for Case management for Protection, Child Protection or GBV case management, you can already try it out with a Free Trial using one of the readily-available database templates. You can also follow our self-paced online course anytime to get acquainted with the most important aspects of the platform..
If you prefer a personalized demonstration of ActivityInfo, please contact us.