Features - Multilingual Interface
Work in your language
ActivityInfo's interface is designed to be easily localized. The interface is currently available in English, French, Spanish, Arabic, Turkish, Burmese, Portuguese, Dutch, Greek, Russian and Persian.
Every user can easily change the language of the application with a simple click so they can work in the language which is most comfortable for them.
When you invite a new user to ActivityInfo you can select the language in which they will be invited.
Missing your language? You can contribute to the translation of the application into other languages. We use POEditor to manage our translations and it's very easy to use! Contact us to learn more.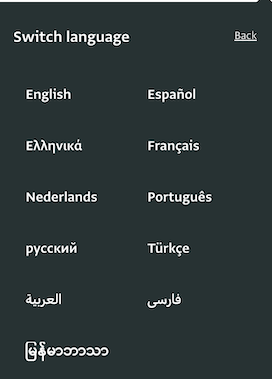 Want to try out ActivityInfo?
Sign up for a free trial account on ActivityInfo.org today and try the service for yourself. The free trial includes full access to all features for 30 days.
Sign up for a free trial
Contact us
Give each person in your organization the power to create valuable information based on your data.