Cash Based Intervention - Unconditional Cash Transfer
This is a database template to explore how ActivityInfo can be used to support your information management needs for a Cash Based Intervention (CBI).
This is a template that you can adjust to your needs as you can edit everything that is included in it. After you copy this template, you can customize the database, forms and fields as well as add records to meet your needs. You can also translate the database to another language.
The template includes forms to register beneficiaries, conduct vulnerability assessments and monthly verifications, capture indicators related to post distribution status and satisfaction, collect feedback/complaints related to beneficiaries and many more. The template also includes two dashboards to help with monthly monitoring and tracking specific indicators.
For more information on CBI and a walkthrough on this template, please watch this video
To get started, click on the button below to add the database to your ActivityInfo account. If you don't have an account with ActivityInfo, you will be prompted to start a Free trial.
Create your own database based on this template
If you need support for a different setup you can always contact us and we can help you with a more tailored approach.
In this database you will find two folders and three forms. The connections between the forms and the actual workflow is reflected in the image below:
This folder contains various reference forms to which the rest of the forms in your database will link to. Reference forms are used for lists of entities; in this folder you can find the following forms:
Camp location: A simple form to collect all the camps and the camp type
Country of origin: A list of countries
FCRM categories: A list of FCRM categories and subcategories along with instructions for how to use them for each category
Partners: Partner organizations participating in the CBI. Thanks to a reverse reference field you can also view which household(s) fall under each partner.
The Beneficiary registration form is a form that collects basic information about the beneficiary. Every record added to the form corresponds to one beneficiary.
In this form you can collect information such as the assigned partner organization, the name, date of birth, country of origin, registration camp, gender, phone number, marital status, displacement assessment, violence exposure status of the household head and more. It is also possible to attach documents.
The form includes formulas that calculate automatically:
The household's specific needs and protection concerns score
The household total vulnerability score
The vulnerability status
The next action to take
The amount to be reimbursed and more
The forms also includes three subforms, to help you include additional information for every beneficiary such as:
Vulnerability assessment: fill this subform in as many times as needed for each record (beneficiary)
Monthly Verification: fill in this subform every month that a verification takes place
Prepaid cards: fill in this subform for every prepaid card that belongs to the beneficiary
In the Table View, thanks to reverse reference fields, you can also view any related FCRM records and any records related to the post distribution survey for each beneficiary.
This form allows you to note down feedback and complaints related to the beneficiaries to help improve your program.
You can collect information such as the FCRM category and channel and automatically get instructions for next steps as the form is linked to the FCRM reference form which contains this information. You can also include the description of the case and select to assign it to another user in the system or update its status. You can automatically get the days until a case is closed thanks to a calculated field too.
Finally, this is a form to help you perform a survey to measure basic indicators and satisfaction rate with the cash distribution. Each response is one record. You can link the response to a beneficiary,select the way the survey was conducted and the interviewer name.
The first part of the survey includes questions to measure the ability of the household to meet household, food, hygiene, clothing/shoes, health costs, and transportation basic needs.
It also checks whether the household had to cope using another mechanism using a relevance rule and provides additional questions to gather information in relation to that mechanism
The second part of the survey includes a satisfaction rating question and prompts for further feedback in cases where satisfaction is not adequate using a relevance rule.
In the Reports folder you will find a dashboard with multiple pages that gives an overview of registrations, demographics, verifications and feedback received.
Page one offers a Registrations overview with pivot table on the number of:
cash assistance recipients
registrations per identification modality
registrations per camp
registrations per partner
registrations per month
Page two offers a Demographic overview with pivot tables on the number of:
households per household size
households per violence exposure type
households per displacement status
participants per nationality
It also offers disaggregation information with charts on:
disaggregation per marital status
disaggregation per gender
Page three offers an overview of Verifications, with pivot tables on the number of:
households verified for cash assistance on a monthly basis
households with verification record
Page four offers an overview of Feedback received with pivot tables showing number of records:
per type of feedback
per type of feedback and per registration date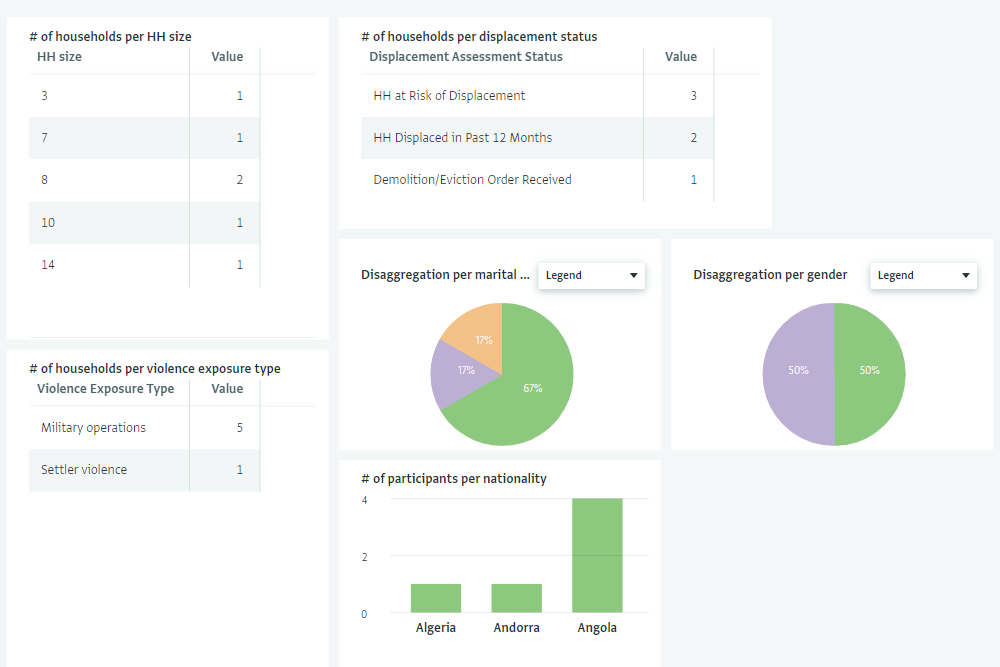 You can edit the dashboards, add more tables, charts and maps to them or create your own analysis. Navigate to Database settings and select the Report you wish to work with for more options.
In the same folder you can also find a dashboard that provides an overview of the survey results of a post distribution survey.
Page one includes three pivot tables on:
the percentage of households who provided a specific answer in the survey to help with indicator tracking
the percentage of households who provided a specific answer in the survey disaggregated by gender to help with indicator tracking
the amount of respondents who reported dissatisfaction with the distribution along with the dissatisfaction reason
Page two includes two pivot tables and a chart with information on number of survey respondents disaggregated by:
gender
country
marital status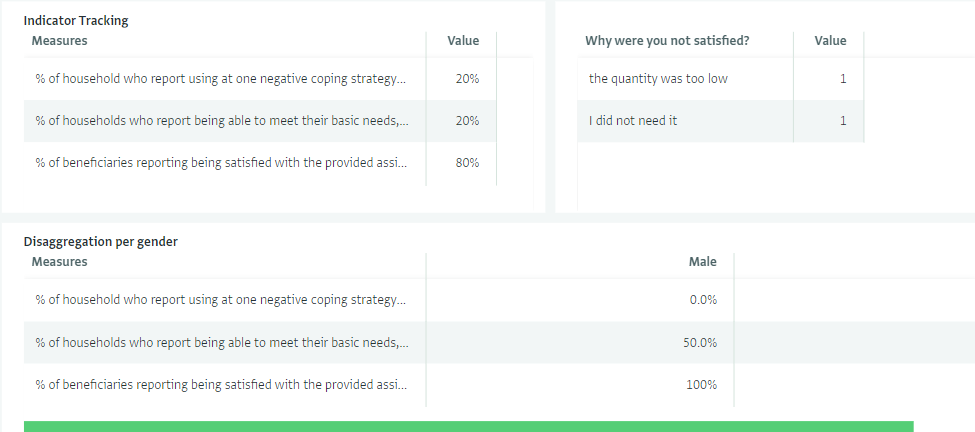 Last but not least, the template includes three Roles which you can edit or assign as they are to colleagues invited to the database.
The Administrator role offers full access to the database and its content and can perform all types of operations on forms, records, users and roles.
The Data Entry role offers access to some basic data entry operations (e.g. view, add, edit, delete, export records) to most forms except the Beneficiary Registration form for which it includes view only permissions
The Read only role offers View only access to the whole database.
You can also add new Roles and adjust them up to the last detail to your needs.
Well done!
You have created a complete database for a Cash Based Intervention (CBI). You can always add more forms and reports based on your requirements.
Never hesitate to contact us if you need help setting up more forms for monitoring your projects in ActivityInfo.