ActivityInfo for Shelter activities reporting and partners' coordination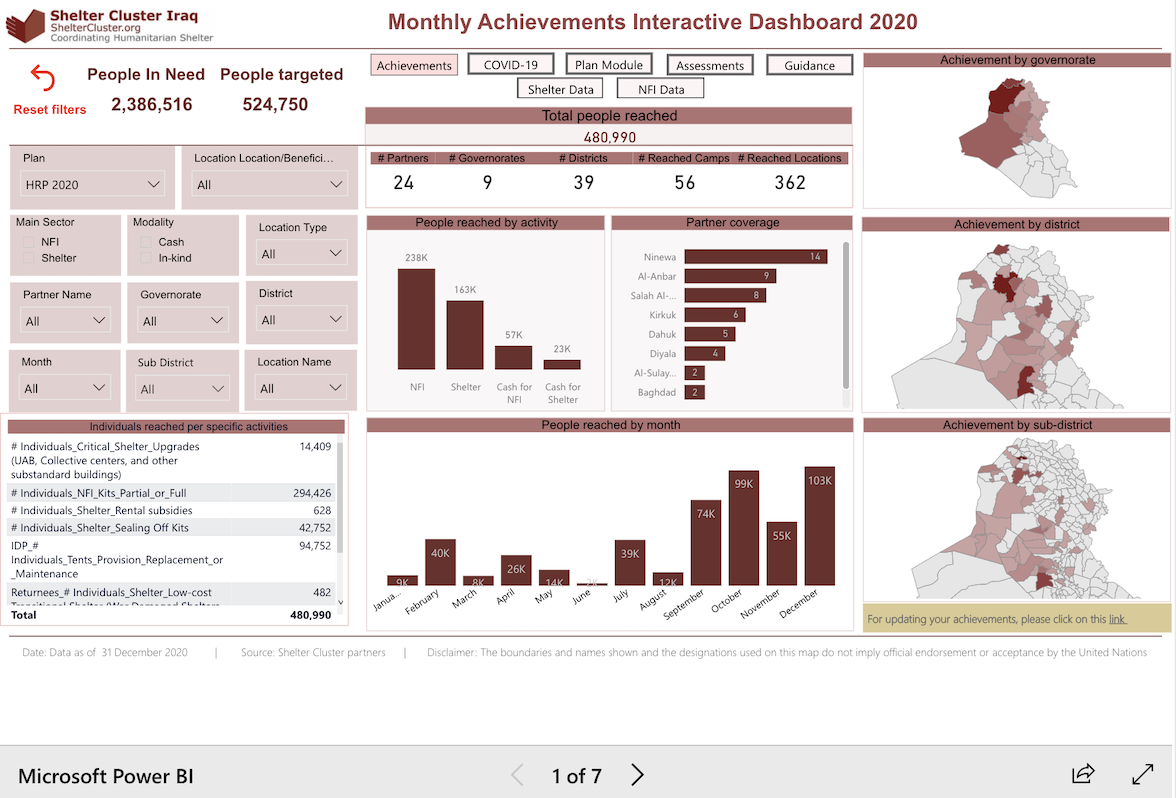 Since its first day, more than 11 years ago, ActivityInfo has been used to support the coordination and reporting activities of large multi-partnered programmes, information management working groups and cluster/sector activities.
From Health, WASH and Protection to Education, Food Security and Shelter activities, the platform has been supporting all kinds of reporting activities offering features and resources specifically designed to facilitate this kind of work. Partners presence and response, 4Ws and 5Ws, KPIs monitoring are only some of the information managed and monitored in the platform.
In this article, we have gathered resources and tips to help you understand how ActivityInfo supports reporting for the Shelter Cluster.
Why should I use ActivityInfo to coordinate and monitor reporting on Shelter activities?
ActivityInfo has been designed to support reporting requirements of large multi-partnered programmes, in particular. As there is no need for installations, manual updates and configurations, information management officers and cluster coordinators can very quickly start working on the platform, on their own. The platform has been designed to be easy-to-use without the help of a technical or IT consultant. Additionally, reporting partners can be trained quickly to use it both offline and online thanks to its user-friendly interface. This is particularly useful, in cases of emergency and rapid deployments.
By replacing spreadsheets with a web-based platform such as ActivityInfo you can ensure that your team, the donors and all implementing partners can access quality data at designated times. You can eliminate delays in reporting that stem from the need to harmonize and consolidate reports. You can always have a real-time overview of your activities using built-in tools or powerful integrations. Also, as you don't host the platform on your servers, there is no need to engage an IT team and resources to maintain them and provide support. This helps reduce the costs in resources such as time and personnel.
Another important point is that you can define the access of each stakeholder in detail. In ActivityInfo, you use User Role templates or create your own Roles and assign them to users. Each Role can include a variety of refined permissions which indicate what a user can do. Then, you can offer access to users only to the resources (databases, folders, forms and subforms) needed. Finally, you can further limit reporting partners to be able to access information that is related only to their organization.
As for support, you can always count on the ActivityInfo team's quick response to your questions. ActivityInfo has been built by a team who, having worked in the field, knows the challenges and has over 10+ years of experience in information management systems.
Who uses ActivityInfo for Shelter activities and how?
You can take some ideas of how ActivityInfo can be used for Shelter activities from the following examples:
Shelter and NFI sector in Libya
The Shelter and NFI sector in Libya is coordinating the humanitarian response in the country addressing the second objective of the 2021 HRP: "Facilitate safe, equitable and dignified access to critical services and livelihoods to increase people's resilience and ensure they meet their basic needs". Their provide a sector overview as well as the partners operational activity. This also allows them to conduct a gap analysis.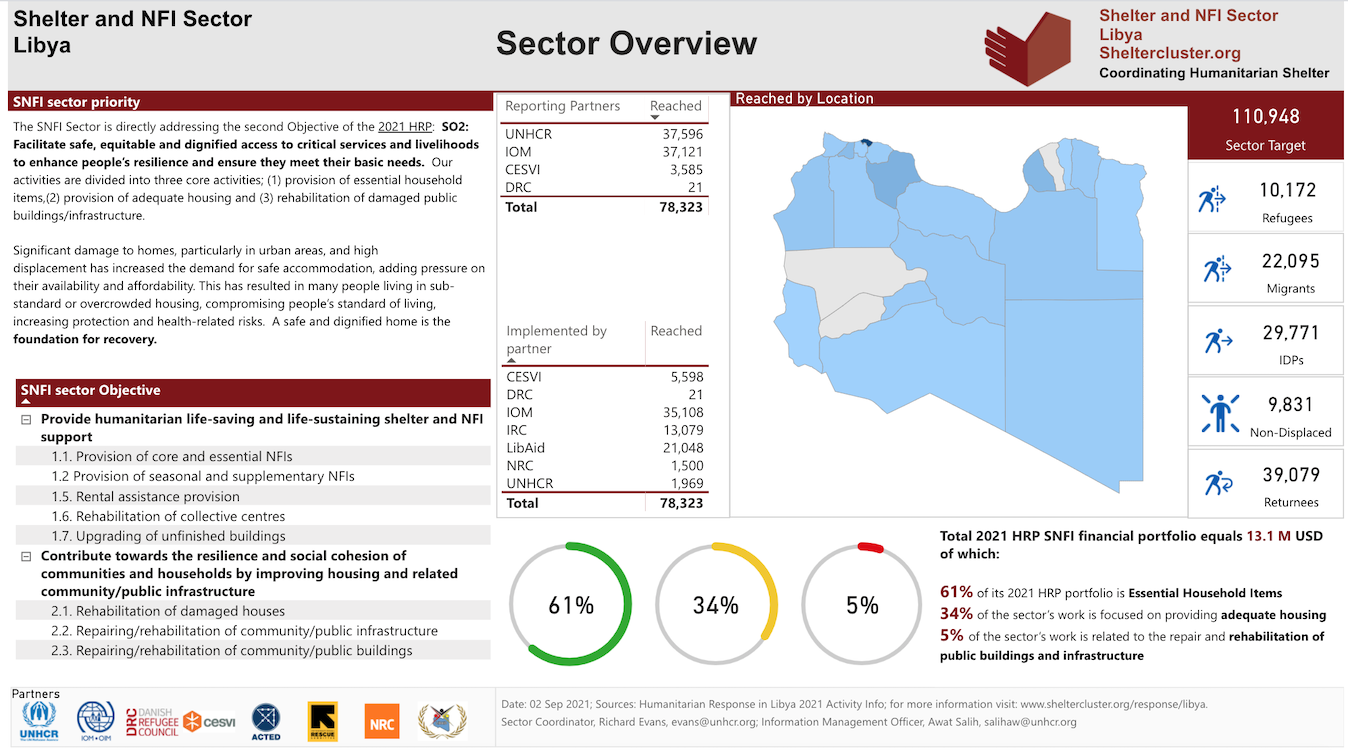 Explore the dashboard to learn more.
Shelter, settlement & NFI in Uganda
UNHCR in the East, Horn of Africa and the Great Lakes serves diverse reporting needs with ActivityInfo in the role of a unified reporting platform. Among other reporting activities the organization uses the platform to coordinate reporting for Shelter & NFI in Uganda.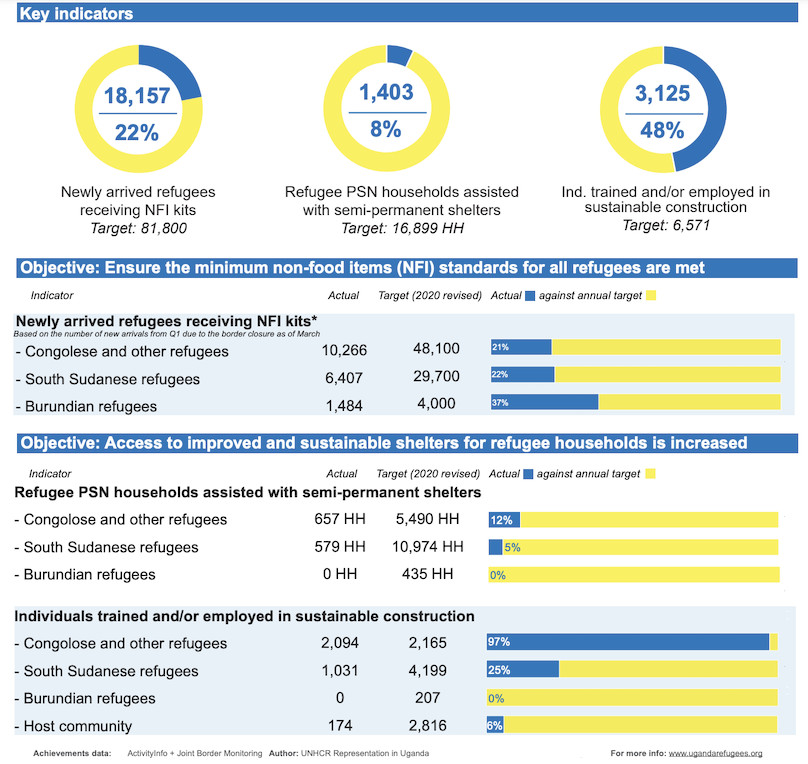 You can read the Case Study, browse 3W reports and dashboards and factsheets.
Shelter, NFI, CCCM in Yemen
You can find interesting information in the 'SHELTER/NFI/CCCM CLUSTER INFORMATION MANAGEMENT STRATEGY FOR YEMEN' document, published in Reliefweb where the Cluster Coordination team is outlining a two-year information management strategy. Read the Information Management Strategy.
Shelter cluster Iraq
UNOCHA in Iraq is using ActivityInfo to coordinate multi-partner reporting for many clusters in the country and produces yearly innovative dynamic dashboards leveraging the API and the Power BI integration. You can read the article to learn more about the dynamic dashboards or explore the interactive dashboard designed by the Shelter Cluster in the country.
How can I procure ActivityInfo for the Shelter cluster?
Thanks to the Global Framework Agreement that UNHCR has with ActivityInfo, all UNHCR offices can directly raise a Purchase Order for a customized Subscription Plan to ActivityInfo. This secures the approval of the UNHCR Headquarters and makes the procurement process simpler and quicker.
At the same time, we are happy to extend the same terms of the Frame Agreement to the UN Secretariat and to UN Technical Agencies. In most cases, other UN Agencies can use the terms of Frame Agreement to procure ActivityInfo through a streamlined process.
Please keep in mind that OCHA or UNHCR may already have an active subscription with ActivityInfo that you can use directly, so make sure to check with the Global Cluster lead. If you are added in that plan, you will be able to use ActivityInfo without purchasing your own subscription plan. Note that the overall cost of a subscription plan is related to the total number of users under that plan.
You can always contact us to discuss this in more detail.
What should I do next?
If you wish to use ActivityInfo to coordinate reporting for your activities you can already try it out with a Free Trial or contact us to arrange a demonstration customized to your needs.
For a quick overview of this information please download this document.