ActivityInfo Trainings, Spring 2020: Jordan, Kenya, Turkey, Netherlands and Lebanon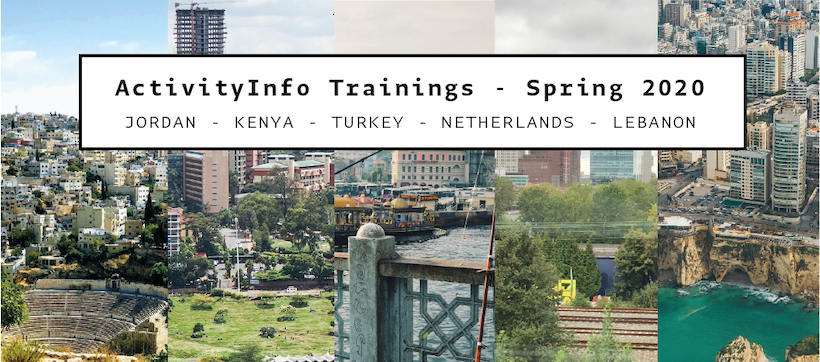 Following the latest developments in relation to the COVID-19 outbreak, we have decided to postpone the training sessions for Spring 2020. We are running virtual classroom courses running in place of the on-site training sessions.
Following the success of the ActivityInfo 2019 training series we ran a survey among our users to understand their interest and to determine the locations of the 2020 ActivityInfo training sessions. We also decided to organize training sessions customized to the learning needs of our users.
As some humanitarians are new or just beginning with ActivityInfo we kept the successful format of the three-day training "From Novice to Expert" to cover all the basic capabilities of ActivityInfo and to help them get started with the platform quickly and easily. For our more experienced users or for the people who are already familiar with information systems and monitoring and evaluation software we designed an "Advanced training series" that lasts only two days.
For both types of training sessions, there will be limited seats available to ensure we work closely with every participant. There is also an Early Bird pricing for a limited amount of time. So make sure to book your ticket early enough.
This is a training designed for people who are curious about ActivityInfo or who are beginners in using the platform and want to understand better what they can achieve with it. It will cover all the basic capabilities of the software such as database creation, form design, user management, data entry and pivot table design. It will follow a structured, slow-paced approach with customized exercises.
Our Training Coordinator will work together with the participants to ensure they understand how program objectives can be translated to meaningful databases and forms in the platform. By the end of the training, all participants will be ready to use the software to simplify the way their organization collects data from the field and will be able to reflect on the best ways of translating program objectives to an information system in ActivityInfo.
This is an advanced training session designed for humanitarians who need to create advanced database structures and forms to reflect the complexity of their programs or projects.
Along with the basic capabilities of the platform such as database and form design, user management and report creation, the training will delve into advanced formulas for data analysis, linking forms to other forms and reference data adjusting user Roles and more.
This is a much faster-paced training session and it is addressed to M&E and IM officers who already know the basics of working with an information system, such as ActivityInfo.
Not sure which training is best for you?
Read the following descriptions and visit our Trainings page to learn more and if you are still unsure, contact us to guide you.
So, without further ado we present the locations and dates for the Spring 2020 training sessions.
This March we will be visiting Amman to give a three-day training on using the software for various cases such as Monitoring and Evaluation, Information Management and Case Tracking. The training session will be hosted in the Landmark hotel in the heart of Amman and everybody interested is welcome to join us.
During March we will also visit Nairobi for a three day training. The training that took place in Nairobi in 2019 was sold out so we decided to host another training for all interested people who didn't manage to book their seat in time. Similarly to the three day training in Amman, this training is designed to cover all the capabilities of ActivityInfo and to allow all participants to become advanced users of the software in just three days.
This April,we will visit Turkey for the first time so as to be closer to our users in the region. Istanbul was the city that made the first place in our survey on your preferred locations for the 2020 training sessions, with more than ¼ of the respondents choosing it from the list of cities and countries. We expect a high number of participants so make sure you book your seat early enough.
We will host a two day advanced training in The Hague, in the Netherlands for humanitarians coming from Northern, Central and Western Europe who are interested in honing their skills in ActivityInfo.
In May, we will meet new and older users in Beirut, Lebanon for another advanced training. In 2019 we were excited to see 20 humanitarians from 14 different organizations joining us and this year we expect to meet more humanitarians who want to expand their skills with more advanced ActivityInfo features.
The image in the composition used for Nairobi by Nina R is licensed under CC BY 4.0. The image in the composition used for Beirut is by Piotr Chrobot and the image in the composition used for Istanbul is by João Marcelo Martins both on Unsplash.