What is new in ActivityInfo Version 4.0?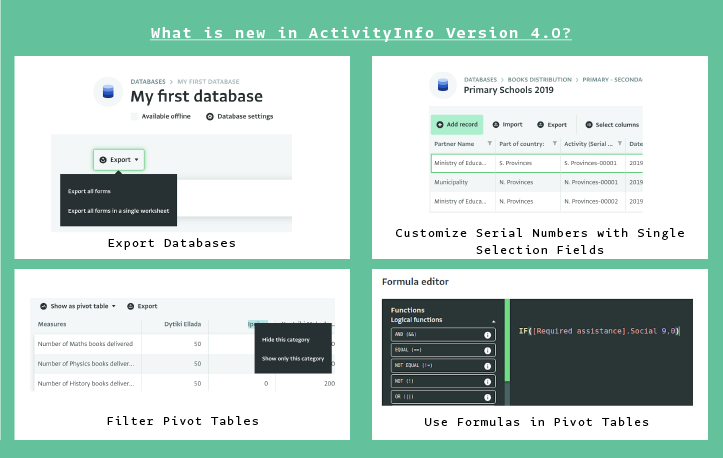 Following the release of the first part of ActivityInfo Version 4.0, we take a look at the recent developments in this version.
This includes exporting databases, filtering Pivot Tables, using formulas in Pivot tables and customizing Serial Numbers with Single Selection Fields.
You can log in to Version 4.0 and try it, whenever you want, using the link: https://www.activityinfo.org/login
Also, you can find step-by-step guides on using this version on our User Manual.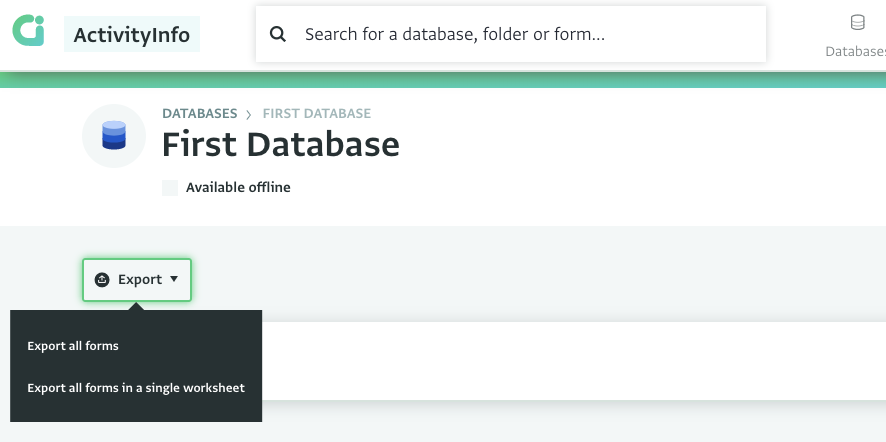 You can export all Forms, Subforms and Records that belong to a Database to spreadsheet files in two different ways.
One way to do this is to export all Records in an Excel XLSX file where every Form and Subform along with the Records added to them will appear in a separate tab in the spreadsheet. The other way is to export all Records of all Forms to a single .CSV file. Depending on your needs you can select the way that is more convenient for you.
In the previous ActivityInfo version, the former was named "Wide Format" and the latter "Long Format" and could be found in the Data Entry interface of a Database.
Read the documentation on Exporting Databases in Version 4.

You can filter a Pivot Table to select the information you want to display. You can do so by selecting which categories you want to keep and which to hide working directly on the Pivot Table.
View a video and read the documentation on Filtering a Pivot table.

You can create a more advanced Pivot Table customized to your needs by adding a Calculated Field with a Formula. Formulas allow you to manipulate the data of the Pivot Table to produce more information based on your needs. Using Formulas, you can assign values to specific Fields, automate calculations and many more.
Read the documentation on Using Calculated Fields and Formulas in Version 4.

Up to now it was possible to customize a Serial number using an input mask. With this new functionality customizing the Serial Number becomes much more simplified.
Instead of having a number you can connect the Serial Number to a specific word. To do so you need to create a Single Selection Field that has in the list of selections the words you would like the Serial Number to be associated with. So when users fill in information they can directly link to these specific words.
So for example, instead of having a Serial Number with the plain format "0001" you can have a Serial Number with a specific word in front of it (e.g. "Health-0001"). To do so simply create a code for the Single Selection Field and add it to the Prefix property of the Serial Number. This is only available in ActivityInfo Version 4.0.
Read the documentation on Customizing Serial Numbers with Single Selection Fields in Version 4.
What do you think of these new developments?
If you think your organization can benefit from a training on all the functionalities of ActivityInfo, don't hesitate to contact us so we can design it together.