ActivityInfo Beginner Training Course - December 2020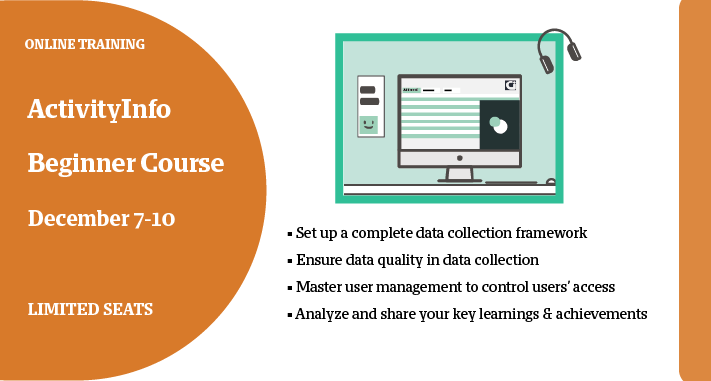 ActivityInfo welcomes you to another virtual training course taking place this December! Join thousands of humanitarians using ActivityInfo for their information management and monitoring and evaluation activities and bring in valuable knowledge to your organization!
There are limited seats available, so if you are interested in participating, please register in time.
Dates: Monday, 7 December to Thursday, 10 December 2020 Language: English Hosting platform: GoToTraining
Learning achievements:
Become an administrator of databases in the system
Set up a complete data collection framework for your project or programme
Understand and apply features to ensure data quality in data collection
Master user management to control users' access
Analyze and share your key learnings, achievements and progress and much more!
"This course saved me a lot of time, as by 'just' following the webinars and reading the manual, I am sure it would have taken me longer to understand how things work and what is possible with ActivityInfo." Wim Piels, Consultant and Trainer, Nedworc Foundation, attended The Hague Training, in June 2019.
The course starts by presenting all the basic functionalities needed to set up your databases in ActivityInfo and to collect and analyze data. It then expands to more advanced functionalities to ensure you can create a structure that can reflect the needs of your programmes. It also covers everything needed for managing users and ensuring the quality of the system you set up and the data you collect. Every day includes exercises on each activity and you will receive personalized feedback and answers to your questions.
4 days of short, very concise sections on using ActivityInfo
Practical examples from various themes
Q&A sessions
Hands-on practice with exercises on the platform
Personalized feedback on exercises
Personalized support
Extensive Course Manual
Certificate of Participation
Are you looking for a way to coordinate your team's or partners' information management and M&E efforts?
Are you interested in moving your paper-based data collection system online?
Do you want to replace your current system with an off-the-shelf solution which is easy to customize to your needs on your own?
Do you want to build on your existing knowledge of ActivityInfo?
Then, this course is ideal for you. In just 4 days, you will be equipped with the knowledge needed to be able to use ActivityInfo and create your own forms, databases, reports and do much more with the platform.
Schedule of sessions for the ActivityInfo Beginner Training Course from December 7th to December 10th.

| Date | Day | Time (CET) | Topics (Learning blocks) |
| --- | --- | --- | --- |
| December 7 | Monday | 10:00 to 11:30 | Introduction + Meet and greet + BASIC - SETUP |
| December 7 | Monday | 13:00 to 14:30 | BASIC - COLLECT + BASIC - ANALYZE |
| December 8 | Tuesday | 10:00 to 11:30 | EXPAND - SETUP |
| December 8 | Tuesday | 13:00 to 14:30 | EXPAND - COLLECT + EXPAND - ANALYZE |
| December 9 | Wednesday | 10:00 to 11:30 | USERS - SETUP + USERS - COLLECT + USERS - ANALYZE |
| December 10 | Thursday | 10:00 to 11:30 | QUALITY - SETUP + QUALITY - COLLECT |
| December 10 | Thursday | 13:00 to 14:30 | QUALITY - ANALYZE + Q&A + Closing |
All times in this schedule are in Central European Time (CET) which is the current time in Amsterdam/Brussels/Berlin/Paris. This training schedule is more suitable for people located in Europe, Middle East and Africa.
Ticket price: €700 Sales end: December 4, 2020 or sooner if course is fully-booked
Early Bird ticket: €550 Prerequisites: purchase online by credit card or IDEAL by October 15, 2020
Prices are excluding 21% VAT which will be added, if applicable.
The ticket is not refundable and can be securely purchased online using the form on this page. By filling in the registration form you provide us with your email address and name and you consent to our using these information in order to contact you with information regarding the training. All major debit or credit cards as well as iDEAL are accepted as payment methods.
To request an invoice and pay by bank transfer, request an invoice after completing the registration form on this page or contact us at events@activityinfo.org if you have further questions. Please note the Early Bird pricing is not available for payments via bank transfer.
There is a minimum number of participants required (3) for the classroom session.
The online course will take place on the platform GoToTraining. There is no additional cost for you to use GoToTraining as an attendee.
You can join the training in one of three ways, using:
a desktop application for Windows or Mac
the Google Chrome browser
an application on your iOS or Android mobile device
Please check the system requirements for attendees to ensure that your computer is ready for the course and to see if your internet connection is adequate.