How ActivityInfo contributes to decreasing the environmental impact of information management
The ActivityInfo team visited Chambéry in France in October 2022 for the 8th edition of the GeOnG, the Humanitarian and Development Data Forum organized by CartONG. The theme of this edition was "Do no harm" in the era of environmental emergency: revisiting Information Management in the aid sector. The roundtables, workshops and plenary sessions offered great insights as to how technology can impact the environment and challenged participants to consider how to adjust their behavior in a personal, professional and social context.
During the three day event, we heard from experts on information management and responsible digital technology and we participated in workshops on good data practices, emerging technologies and their environmental impact. We got many key take-aways as well as the chance to evaluate ourselves and the technology we use against standards and expectations. We listened to speakers recognizing the importance of consistency in data management for all information management stakeholders. We also heard about the importance of minimizing parallel data systems and data collection efforts to the bare minimum for a positive impact on energy consumption and the environment.
These topics spoke to our hearts, as ActivityInfo has always been striving to minimize redundant effort in data management and data collection using environmentally-friendly technologies. They gave us inspiration and refreshed motivation for adjusting our behavior and technology for further changes and improvement.
The carbon footprint of data centers is significantly high due to the electricity they consume to maintain the cooling systems needed. The ActivityInfo SaaS version hosts all data in Google's Cloud Platform, Google's world-class secure data centers, located in Europe. According to the Google Environmental Report 2021 in 2020, the Google Data Centers maintained the ISO 50001 certification for their operational European data centers. They were the first major internet company to achieve a multi-site energy management system certification to ISO 50001. Also, in 2020, the global landfill diversion rate for data center operations was 81%. The same year, the average annual Power usage effectiveness (PUE), which is a metric used to determine the energy efficiency of a data center, was 1.10 for the global fleet of data centers.
Additionally, working towards carbon-free energy, the company purchased renewable energy, from sources such as wind and solar, to match 100% of the electricity consumption of their data centers and offices and 67% of the data center electricity use on an hourly basis was matched with regional carbon-free sources. As for GHG emissions, Google states that they have been carbon neutral since 2007.
ActivityInfo allows organizations of all sizes to bring together under one roof data collected at all levels of their programs. From coordinating large humanitarian response programs with multiple partners to streamlining the data management efforts within an organization, the platform enables the creation of a centralized, single source of truth while giving the freedom to different teams of a program or organization to handle data in a decentralized way.
Using less software, tools, emails and systems at an organizational level can reduce the impact on the environment. When all data exists in the same place, it is easier to break down silos of information, exchange data between organizations as needed and consequently reduce duplication of effort and redundant data collection activities.
Then, email storage and email attachments also have a significant carbon footprint according to Mike Berners-Lee in the book "'How Bad are Bananas?: The Carbon Footprint of Everything' (2020)". When using ActivityInfo, email attachments with data spreadsheets or stored emails in multiple accounts, can be replaced with a single information source; a database in the platform.
When we design the ActivityInfo application and the ActivityInfo website we consult UI/UX experts so as to follow best practices. This means that the design is always optimized for user interaction and less resources are needed for the audiences or users to get the information they need. The ActivityInfo website is producing only 0.06 g of CO2 every time someone visits the website according to the website carbon calculator.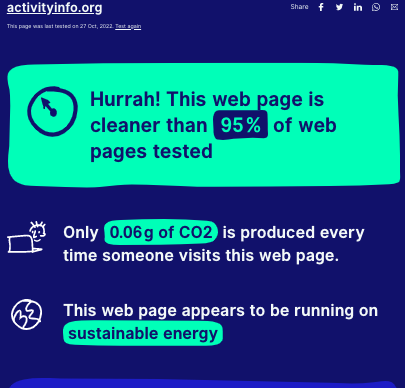 Another important source of environmental pollution is caused by technological obsolescence which leads consumers purchasing new devices to be able to afford technological advances such as software and security updates or new features.
From our side, we want to make sure that the ActivityInfo mobile app can remain available and working on older Android devices. To achieve this, we are planning to further expand our mobile testing lab to include older Android devices to ensure ActivityInfo functions well with these devices too, and does not contribute to tech obsolescence.
Last but not least, in our day to day working lives we strive to reduce our environmental impact both in terms of the technology we use and the way we work. We preserve devices and equipment for a longer time, limit the energy consumption of electrical appliances, recycle old devices and provide incentives for our team members to use public transport to come to the office.
We are also challenging ourselves to adjust our behavior and improve further by adding a plan for refurbished laptops and repair plans for our equipment so that we replace components instead of discharging the devices.
We would like to thank the CartONG team for bringing these matters to our attention and reminding us to strive for ongoing improvement so as to "Do no harm" in the era of environmental emergency.