How localized tools assist monitoring and evaluation and data collection activities: ActivityInfo in Burmese
ActivityInfo has been recently translated into Burmese, also called "the Myanmar language", thanks to Ms Swe Swe Aye, an experienced public health professional and a certified ActivityInfo Partner.
The translation of ActivityInfo in Burmese (Myanmar language) gave us the opportunity to discuss the NGO landscape in Myanmar as well as the importance of localized tools, with Ms Aye.
We have designed ActivityInfo in a way that it is easy to be localized because we believe that providing a user-friendly tool in the local language of a country can facilitate the work of users and can help them focus on their work. The interface is currently available in English, French, Spanish, Arabic, Turkish, Portuguese, Dutch, Greek, Russian, Persian and Burmese.

Following our discussion with Ms Aye, we concluded that having localized and user-friendly tools directly results in increased interest and trust among end-users. A translated platform assists less tech literate people and people who don't speak English well or at all, in doing their work more quickly and independently. In the case of data collection, efficiency can be hindered by language barriers.
As Ms Aye states,
"If the end user doesn't understand the tool, they cannot use it properly, so they won't take it seriously and this can result in not collecting the proper data."
In the example of Monitoring and Evaluation and ActivityInfo, the terms can be very difficult to understand when expressed in a language other than the primary language of the user. For end-users who simply need to do data entry, such as farmers or outreach workers for example, a platform that is practical and simple is fundamental. Translating the platform into their native language makes their lives easier and allows them to be independent and confident when working with it.
In Myanmar, there are plenty of local organizations, working on a small scale. These organizations could use user-friendly, localized M&E or information management tools to do their work more systematically so as to increase their accountability and transparency. Such tools can improve their projects and activities in terms of efficiency, cost-effectiveness and reliability as well as cooperation.
They can also detect gaps in the support offered and the overlapping efforts among organizations much more quickly. Sometimes, having in place such tools can even help detect fraud cases. Thanks to proper reporting and information sharing, public trust can be increased and their fundraising activities can be reinforced.
"I think M&E among local organizations is very weak in our country. Lately, the use of M&E has increased but it is not systematic. People are not so used to keeping records and collecting data, they don't see these things as important. Also, the public sometimes distrusts their work. With proper monitoring and evaluation processes, things would be much better. Becoming more accountable by showcasing numbers and the work they do can help them become more transparent and reliable, as they will show how they use the financing they get. The larger organizations are doing well in that field. But the smaller NGOs need to work more", states Ms Aye.
As for the translation process itself, Ms Aye states that it was not a difficult process but there were some points to take into consideration. In some cases combining English with the local language is more efficient than using the term directly in Burmese (Myanmar language). Also, when designing a form providing some context or a description can help people understand what is needed from them.
"For some of the technical terms, we don't have the exact terms in our language. So sometimes we have to use terms in English or combine the local language with English. This would make it easier to understand", explains Ms Aye.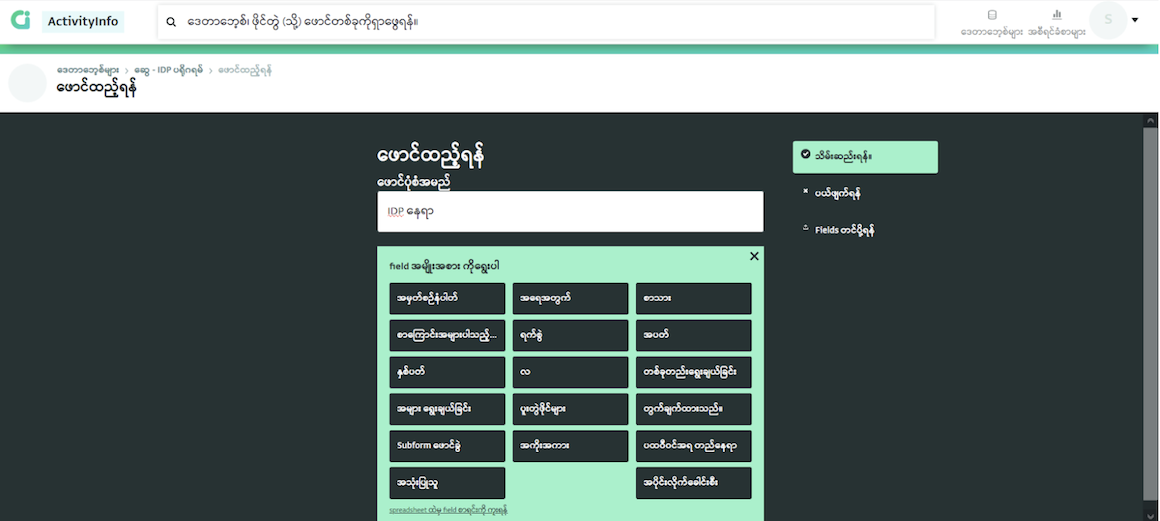 What attracted Ms Aye to ActivityInfo is the fact that it is a platform designed to be used by people without a technical background. Having in place tools that are accessible and easy to use is important. It makes it easier to influence positively the mentality of NGOs or other end users in the field towards M&E. It also makes training more comfortable. In the long term, using more widely such tools and processes can benefit both the people who use them, the local NGO sector, the community and the country, as a whole.
Ms Aye is currently working on a pilot project proposal to support the agribusiness sector in Myanmar and plans to use ActivityInfo to help farmers document their work in order to obtain international certifications. She was looking for an effective platform or a tool that would be very easy to use and accessible for the audience of the project. Following the translation of the platform in Burmese (Myanmar language), ActivityInfo can be completely customized to the needs of the project and make data entry and documentation as simple as possible for the farmers. Also, as ActivityInfo offers offline data collection capabilities and is available for mobile data collection it becomes an ideal platform for collecting data wherever that is convenient for the farmers.
Ms Aye is a certified ActivityInfo Partner and has participated in ActivityInfo training courses. She also follows the ActivityInfo Webinars regularly to keep up with the latest features we develop.
"ActivityInfo was new for me and I learned a lot in the training. I also follow the Webinars and it is really helpful for me", notes Ms Swe.
Ms Aye is a public health professional with experience in design, development and implementation of public health and organizational development programs in low and middle-income countries. She has been a senior project manager with CARE in Myanmar for 7 years, working with at-risk populations and programmes for various projects including HIV/AIDS prevention, care and support. Ms Aye has a 4 year experience in qualitative and literature research in public health and capacity development for developing countries. Today, among many projects, she also offers her services in gender-based violence prevention programmes with multiple organizations in Myanmar, Afghanistan, Egypt, and India. Ms Aye is a certified ActivityInfo Partner since May 2020.
The ActivityInfo Partner Programme allows independent consultants to partner with ActivityInfo so as to be able to use the platform for their services and offer new combined knowledge to the organizations they assist. The Partner Programme offers free access to ActivityInfo training courses and the ActivityInfo platform for piloting M&E and data collection systems, technical support from our team and support in the partner's initiatives (e.g. RFPs, piloting projects etc.)
Interested in becoming a certified ActivityInfo Partner? Contact us to discuss your eligibility.