Simple map visualizations for your records
Mapping is an important aspect of data visualization as it helps you get a quick overview of what is happening in a geographic region, at a glance. In ActivityInfo, we want to give you the tools to visualize your data in ways that allow you to monitor and evaluate the progress of your activities and draw quick conclusions based on real-time developments and information. For this reason, we are placing great importance on the design of features that will allow our users to map their data quickly and intuitively.
We have divided the development of mapping features in two different phases. The first phase which is part of the latest release allows you to display your Records on a map using the Map View page. The second phase will provide you with the reporting tools to visualize, using maps, the results of your data analysis.
We added a Map View to allow you to quickly display an overview of all the Records that are related to a Geographic point or Geographic area, on a map. To be able to use the Map View, you need to add either a Geographic Point field or a Reference field which references the built-in geodatabase of ActivityInfo in your Form. Then, during data entry users can either add the correct coordinates (latitude and longitude) for the Geographic Point field or simply select the location (e.g. province, district, etc.) from the dropdown list of the Reference field.
When in Map View, you can view clusters of Records or individual Records on a map and you can select Records to view their details and history. By zooming out of the map you can get a clear view of the amount of Records related to the region you are interested in and by zooming in the map you can delve into the details of specific Records.
We offer various basemaps and the possibility to select between using a Geographic Point field or a Geographic Area field as a geography source. You can also filter the displayed records, using the filtering options in the Table View page and then switching to Map View.
Learn more about viewing Records in Map View in our User Manual.
You can create a short form where each partner organization can fill in the name of the organization and the geographic point of their field office. Then, in Map View you can quickly see where each organization is hosted.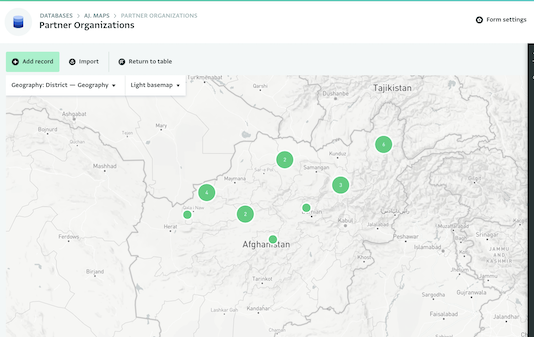 You can create a short form where you can collect the name of the camp and its geographic location. Then, in Map View you can easily display where each camp is located. You can do the same for any other type of entity such as hospitals, schools, households etc.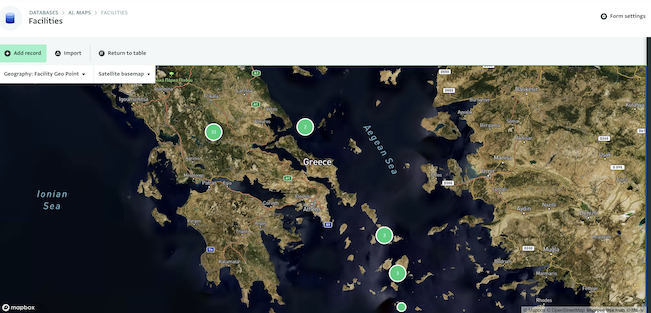 With a form that references your activities or simply collects the name of each activity and links them to specific geographic locations, you can view in which areas you are most active.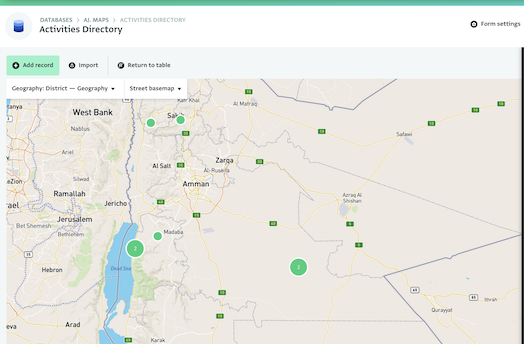 There is a wide variety of interesting possibilities for the maps you can create; just remember to add a geographic source to your Form! What kind of map will you create?