Activityinfo in Tajikistan: 5 days full of trainings and discussions on M&E and information management with UNICEF in Tajikistan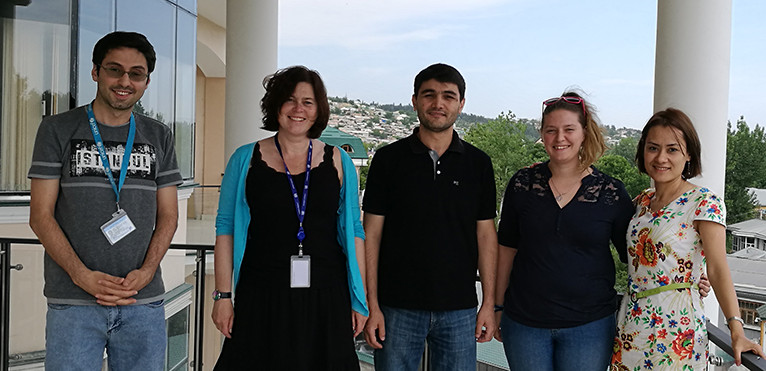 This year ActivityInfo resumed delivering on-site private and public trainings on ActivityInfo. The private trainings are educational sessions customized to an organization's needs and the public trainings are educational sessions open to anyone interested in learning how to use the software. The public trainings take place in specific locations and on specific dates (learn more about the training in Lebanon and in Kenya) whereas for a private training our team visits an organization's premises.
Last month the Training Coordinator of the ActivityInfo team, Lucy Brinks visited Dushanbe, Tajikistan to give a training to UNICEF in Tajikistan who is using the M&E software in the country. During the five day visit Lucy met with various team units that cooperate using the platform and discussed a variety of topics in M&E and Information Management with them.
The training sessions covered a variety of aspects of the software and was customized to the organization's programmes and needs. Some of the subjects that were discussed included the optimal setup up forms and databases to fit a results-based framework, the use of the ActivityInfo API for querying data and for creating interactive dashboards via Power BI, using key functionalities of the platform (e.g. importing form schemas, linking forms, using formulas and pivot tables) to make the most out of the data collected and more.
More specifically, one of the key elements discussed was how to translate a framework into forms and how to allow each sector to have the required information in one place. Each sector needs to be able to gain knowledge in different areas, therefore finding the common ground enables them to reduce the amount of forms required in one database.
By the end of the training the teams and the Training Coordinator had covered a lot of key aspects related to their information management processes and to their monitoring and evaluation efforts and agreed on the future steps of this project to ensure the sustainability of the outcomes.
Shukufa Ibodova, M&E Specialist working with Child Rights Monitoring comments regarding the training:
"In a week's time I have learned the essentials of ActivityInfo. Now, I have necessary skills for creating schemas and forms, entering as well as importing and exporting data in our newly created forms. I have learned how to use the reporting function, and I know there is much more to explore on this. Most importantly, the knowledge gained during the on-site training allowed me to reflect on the structure of the database for our office and determine the necessary steps to implement it"
Are you interested in a customized training for your organization? Contact us and we can design this together.