Three day training on ActivityInfo in The Hague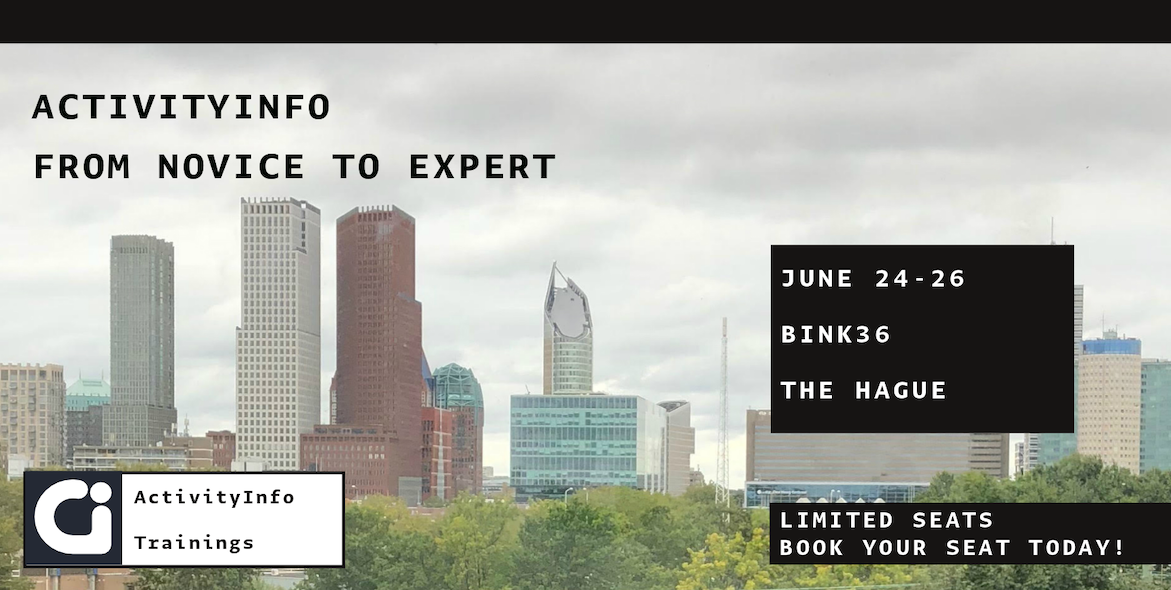 We are pleased to announce that we will be hosting a three-day Training on ActivityInfo in The Hague, Netherlands. The Training will take place from 24th to 26th June 2019. It will be in the English language and will cover all the aspects related to using the software for data collection, database and form design, data analysis and reporting. Following this three day training, participants will become more familiar with the challenges and best practices in the M&E field. They will understand how they can move from a LogFrame to an online Information System and they will be ready to apply their newly acquired knowledge to improve their current M&E systems by using the software.
View our latest training schedule
The three day training is designed for M&E/MEL/MEAL/IM officers who want to simplify the information management or the monitoring and evaluation efforts of their team using a simple and user-friendly online M&E software. It is also a good introduction for programme or project managers who are interested in getting hands-on experience with an M&E tool or for capacity building officers who want to bring in a new tool in their organization.
In order to provide high quality, one-on-one support to every participant, there will be limited seats available. The three day training will be given from ActivityInfo's Trainings Coordinator, Lucy Brinks. Attendees are strongly advised to bring a laptop to benefit from the hands-on Trainings.You are welcome to book your seat and learn more about the three day event at: http://bit.ly/ActivityInfo_training_TheHague.
June 24th
Introduction to M&E common issues and best practices.
From LogFrame to Information System
Creating databases
Designing interactive forms for data collection.
User management.
Importing form schemas
June 25th
Data collection
Taking a database offline
Importing data
Using filters
Exporting data
June 26th
Creating pivot tables and bar charts
Using formulas
Using filters with pivot tables
Would you like a more customized training for your organization? Don't hesitate to contact us.