How to make the next step in ActivityInfo: linking budgets to your activities
Most agencies using ActivityInfo have databases and forms in place to follow up activities and programs. However, more and more roll outs are also including the next step, tracking budgets, follow-up with targets up to project cycle management as well as contract tracking for multi-partner programs (or clusters). Some of these topics will be dealt with in future blog posts, but for now: how to make these next steps with budgets in designing your forms and databases?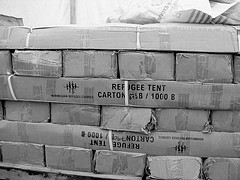 Image by Bjørn Heidenstrøm on Flickr.
Given the full flexibility of setting up your forms, there are several ways to follow up on budgets and expenditure. There is not a one size fits all solution, but hereby an example of how agencies have used their creativity in the design of forms and databases in ActivityInfo
Follow expenditure
By having an expenditure form field in your activity tracking form (see example below) one can follow up in real time the expenditure to-date* for certain activities. This can be followed up by region, organisation, project etc.
Example

A project is in place to raise awareness on GBV in a war torn region, with outreach and training activities.

Several teams are operational, besides their activity indicators (eg: number of participants, breakdown in participants profiles etc) you as the project manager can add for example the following fields to the forms (quantity form field, for example set in your local currency, with the aggregation method Sum):
travel expenditure
per diem provided for team members
material cost (training material)
other training cost (if any please describe in the next paragraph)
As a project manager you can set up a report in which you can follow the expenditure to date in total of certain parts of your programs. This expenditure you can even break down again for example per team, per agency, per cost centre; it's all about how you configure it.
What's next? Using the target option for your budget.
So you've set your forms in such a way that you can track expenditure to date, what can you do next? In ActivityInfo you can add targets for your form fields (eg if your agency has a target to reach 10.000 households with bed net distributions in a given location, or building 150 latrines in a refugee camp). However, you can also use this target in a creative way, to add a budget to your expenditure form fields. In your reports you can then track the expenditure to date (see above) and have the total planned budget next to it, having a better overview of your financial situation.
Example

Keeping the same example as above, you are the project manager of a project to raise awareness on GBV in a war torn region, with outreach and training activities. You have set up your monitoring form fields as above, each of the outreach officers have to report in the GBV outreach monitoring form.

In the design tab of ActivityInfo (see here for a comprehensive step by step guide to setting up a 'target') you can add a budget to each of form fields as described above (travel expenditure, per diem provided for team members, material cost (training material), other training cost.

With your reports you can set up a pivot table to track in real time how your project is on track with your expenditure versus your budget. You will see at all times immediately how you are doing. You will be able to follow up quickly if you notice there is more funding required or if a change in activities is required.
Working in multi-partner projects or in clusters or sectors?
As coordinator you can configure ActivityInfo that all agencies have their own budgets in the system. Imagine working with over 20 agencies in Water and Hygiene in a camp in which 7 agencies providing latrines and handwashing stations. Each agency can provide their budget (since the function 'target' can be assigned to each partner individually) or you can set a budget for the entire provision of latrines and handwashing stations. You can even assign these budgets for a given period of time (eg per year or specific time period eg rainy season 2015).