How AIP Foundation decided to adopt ActivityInfo across four countries
This a guest blog post by Danielle Moore from the AIP Foundation
ActivityInfo worked its way onto my radar a year ago this week. On my first cursory scan through the website, I was impressed that the listed partner organizations, such as UNICEF and OCHA, were able to coordinate adoption of this new system across their many diverse locations. When I asked about this feat, Alex (lead developer ActivityInfo) burst my bubble, explaining that many users were introducing ActivityInfo within a cluster or field office.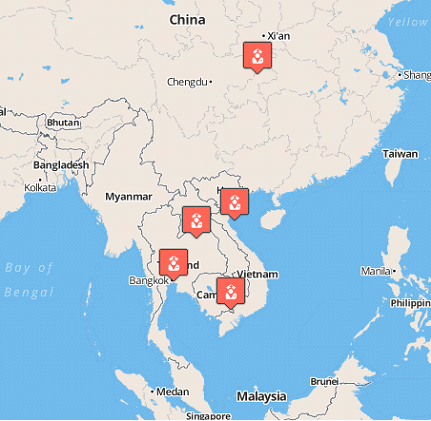 Despite this news, we decided to adopt ActivityInfo organization-wide from the beginning, so Claire (project manager ActivityInfo) asked me to write about our roll-out for other users who might be considering the same solution. Here I'll discuss our decision not to limit ActivityInfo to one country and the challenges of that choice. In my upcoming posts, I'll tell you about our pilot phase and then the steps we took to bring ActivityInfo to each location.
Why did we choose a multi-country roll-out?
Our decision to adopt ActivityInfo in five offices across four countries, just like our decision to use ActivityInfo in the first place, was a relatively easy one. We have a small monitoring and evaluation (M&E) team and data is collected by program staff in each office; we don't have the luxury (or the problem?) of developing different data collection and management processes in each country.
The M&E department only comprised one person until recently. Now we have two permanent staff and one volunteer stationed at our headquarters in Vietnam. As a result, our more numerous program staff collect the majority of our data, with the exception of some large scale evaluations conducted by consultants.
This is an approach we're happy with, given the added benefit of allowing our program staff to see the results of their hard work first-hand. Their involvement in the monitoring process is essential to making concurrent improvements to the project and compiling lessons learned.
However, with so many hands in the data collection process, it would not be feasible for our small M&E team to coordinate one system with the Hanoi and Ho Chi Minh City teams and another for the projects in Cambodia, Thailand, and China. We needed one place where we could find all of the basic data about our activities, which is why we choose ActivityInfo in the first place. So from the start, we knew that if we had ActivityInfo in one location, we'd need it in all of them.
What are the challenges of this choice?
As a medium-size, but quickly growing organization, I reasoned that the scope of our roll-out would be similar to that of a field-level cluster in the UN system.
Nonetheless, what made our situation unique (and challenging!) was the inclusion of four geographically, politically, culturally distinct countries and the various projects implemented in each. In order to successfully adopt ActivityInfo in all of our locations, we had to take these distinctions into account, working with Alex to add multiple sets of provinces, districts, and communes into our databases; homogenizing terms for government bodies to be understood by all of our users; and beginning (mercifully!) to standardize terms for different activities (is it a training of trainers (ToT) or a masters training?).
Moving forward, as our programs adapt to a range of factors, including country context, we must continually make decisions about how much location-specific difference in projects may necessitate a separate database and about how to make a shared global database work for projects that vary across countries.
However, the challenges inherent in working in multiple countries are not unique to our M&E team, or even to ActivityInfo. Our finance, fundraising, administration, and communications departments undoubtedly face similar obstacles coordinating across countries, as do most international organizations. The problems we've avoided by no longer tracking the results of our projects by Excel and Word files exchanged by email far outweigh the modifications we've had to make in order to roll-out ActivityInfo in multiple countries.
How about you? Does your organization use ActivityInfo in all the countries where you work? Only one office? How did you make that decision? What are the challenges you're facing now?